Saturday 16 July. A Saturday Ride in Tuscany
This a a days ride in the latter part of a 2 week tour of Tuscany and its neighbouring region of Romagna.
The days ride started fom our base for the last few days of Sestola at over 3000ft.
The day started as had the last few days with unbroken clear blue skies and temperatures reaching over 30C.
On the trip there was myself , the organiser Dave Fox and a friend of Dave's from Somerset. Mike Green.
We started with a long downhill to Pievepelago. We stopped here for picnic provisions. This was also the start of the 1500 metres climb to the Radici Pass. As we stopped to check the junction at the bottom an Italian Cyclist stopped to advise us on the route in impeccable English.
We then had a 10 mile climb but the heat wasn't too excessive thanks to lots of trees and a cooling breeze. We stopped for elevenses half way up at Sant Anne Pelago and then a picnic lunch at the top of the pass.
Dave Fox on the climb
We then continued on a minor road which involved steep gradients for another 100 metres. We then had a steep descent in dramatic scenery to the next valley. Brake rims heated up on downhill gradients registering up to 22% on my Cyclo Altitude bike computer.
We stopped for a pleasant shaded tea at a bar half way down at Chiozza and then headed down the mountain to the main valley road. We then needed to find our accommodation which had been booked at a place called Ill Cicero rather than the nearby mountain town of Bargo which was booked up due to a music festival.
The only problem with the accommodation was the 2 mile driveway up the side of the mountain up its own set of multiple hairpins. We arrived very hot and sweaty at what turned out to be a 4 star hotel. When we signed the checkin forms I left a pool of sweat on the counter to some disapproving glares from the receptionist.
We finished the day with a welcome swim and sunbathe with beautiful views to the mountains across the valley and to the adjoining hilltop town of Barga.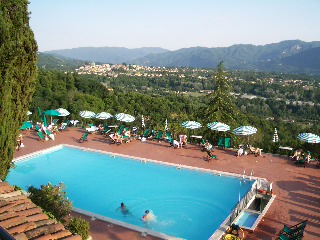 Ride Reward
Price was reasonable for the quality at
149 euros for 3 of us.
Mileage for the day was 41.35 and the days total climbing was 4074 ft.
Edwin
Posted by Ride Leader at 12:01 AM BST
Updated: Tuesday, 19 July 2005 12:40 PM BST