Sun.7.Aug Awayday Ride from Petersfield.10.30
A lovely sunny day enjoyed by all. We met at Petersfield Station at 10.30 where parking is free on Sundays. All 8 of us had come by car. We were then joined by 4 riders who had cycled from Chichester on the longer ride led by Edwin.
We headed off west from Petersfield and were soon cycling along a maze of quiet country lanes stopping at The Sustainable Centre tea rooms for mugs of coffee/tea and homemade cake. This is an "eco" place which was part of HMS Mercury which is now closed. For those interested, one can be buried here in a cardboard coffin and have a tree planted above. (The conversation can be imagined)
We headed South with wonderful views from Teglease Down and towards Ripley on lanes parallel with the busier Hambledon roads. The Horse and Jockey was our lunchtime stop and here we met two more of Edwins riders who somehow had missed him.
All 14 of us continued east. through Denmead and on to Clanfield. Edwins group left us here while we continued on to Butser hill - yes, to the top, and then came our reward. Oh, Edwin you did miss out. Halfway down a whizzee hill (Harvesting Lane) is a Barn where the most delicious cream teas are served on the lawn outside. Only one person was strong enough not to succumb.
Back to Petersfield. A farewell to Clare and Vernon and to wish them well on their 2 year round the world bike tour, and back home.
Many thanks to Jan Bambridge who lives in this area and who planned the delightful route.
Total 35 miles
Avryl Bavister (Leader)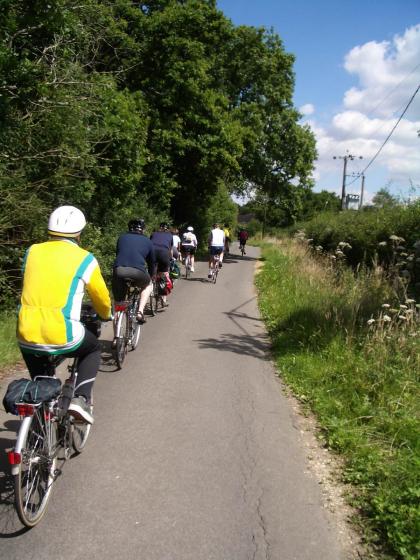 Lane near Hipley
Posted by Ride Leader at 12:01 AM BST
Updated: Wednesday, 10 August 2005 9:45 AM BST