Sunday 12 March - Walberton start
Mood:
chillin'
Jill ascending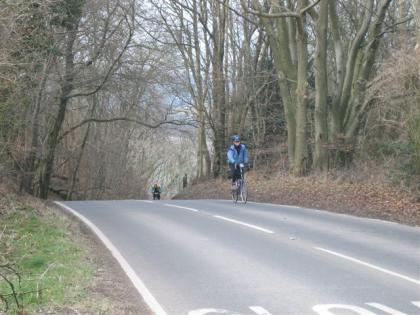 Phil & Mary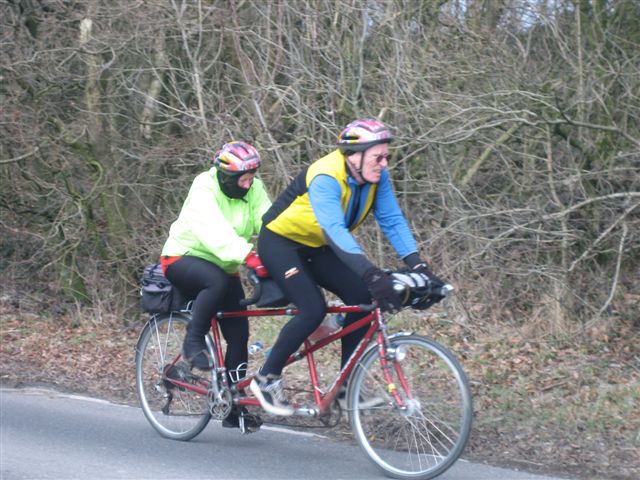 Ernie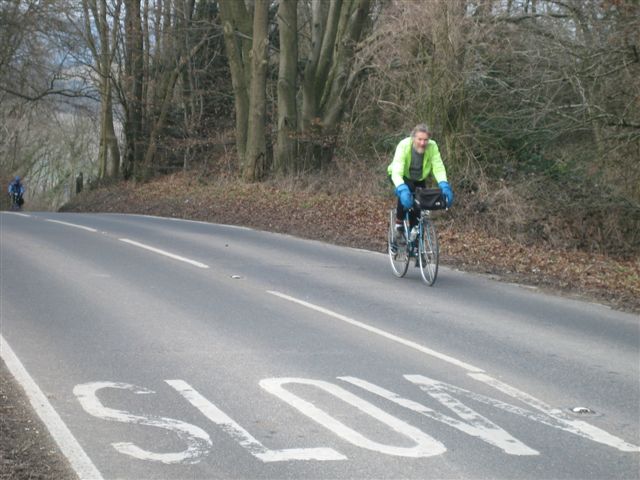 Six of us left Walberton Pond at 9:30 in a light snow flurry: Colin, Jill, Anne, Ernie, Phil & Mary. Colin led us up to Whiteways via Madehurst then down Houghton Hill and across to Bury where we stopped for coffee. We arrived at 10:25 am 5 minutes before the scheduled opening time, but were able to enter immediately and place our orders.
From Bury we continued west to the bottom of Duncton Hill, then through the school to the A272, a loop through Lodsworth and then south again to eventually arrive on a minor road behind the Royal Oak, our lunchtime destination. Despite it being about 2 degrees in the garden and the fact that there were about 20 cyclists inside the pub, the landlord took offence at a small group eating sandwiches in the garden. Plans to go inside for a bowl of soup were consequently ditched, and it was a pretty chilled group that climbed back on to their bikes for the return trip.
We lost Anne but gained Chris. Colin led us back though Elsted, up Turkey Hill, down to Chilgrove, and then minor roads to West Dean where we stopped for tea (and to warm up again). We continued to East Dean, and crossed Pillegreen Hill, separating at the bottom with Colin, Chris & Ernie heading for Boxgrove, and Jill, Phil & Mary heading back to Chichester.
Phil
Posted by Ride Leader at 9:55 PM GMT
Updated: Tuesday, 14 March 2006 10:13 PM GMT